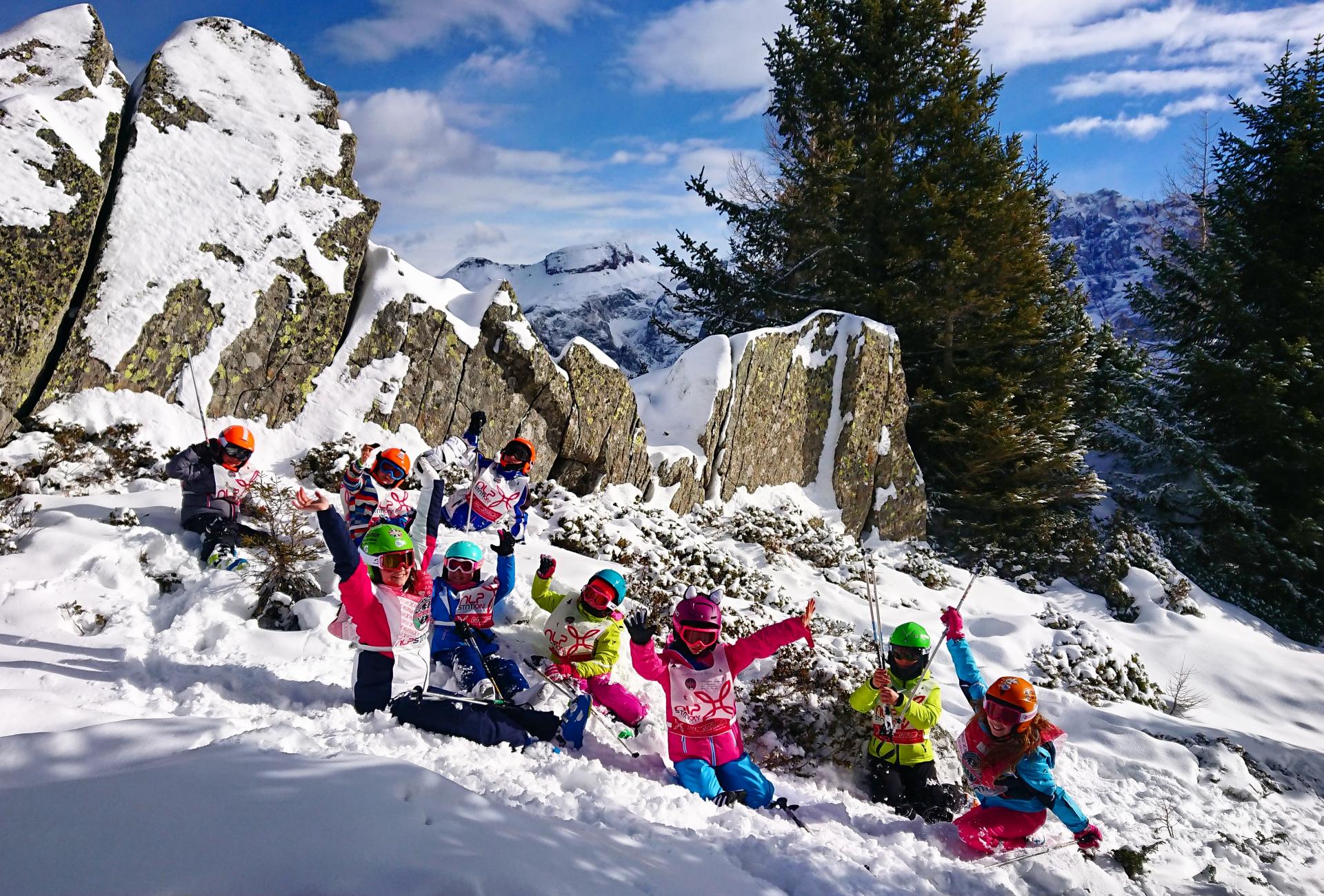 Kids Ski Course
Our simple aim is to provide a wonderful experience which allows children to learn to ski with the instructors of the Folgarida Dimaro Italian Ski School, giving parent the knowledge that they are in a safe and fun environment.
Options for kids classes/courses:
The meeting point for the pre-class selection on the first day is at the same point as children's and adult's group classes start and end: at the top of the Bamby chairlift No.8 on the piste map. The meeting point can be easily reached on foot, as it's only a short walk from the arrival points of both cable cars from Folgarida or Belvedere.
For any kids who have not skied previously we have a special location for their first day which is directly outside the exit points of both cables from Folgarida and Belvedere.
Normally our group classes have a maximum of 9 kids. Of course this may be different at certain extremely busy periods such as New Year, Epiphany, etc.
Group courses are for 21 hours spread over 6 days.
During the Christmas and New Years weeks group courses are for 18 hours spread over 6 days
On Monday, Tuesday and Wednesday group the kids group course times are 10:00 to 12:50
On Thursday, from 10.00 onwards, the race takes place after which the class continues as normal until 12:50
On Friday there is a Full Day excursion with the instructor from 10.00 to 16.00. There is no Full Day during the Christmas and New Year weeks and so the class will end at the normal time of 12.50.
Your child may start their course on either Sunday or Monday. All courses end on Friday.
Occasionally we have space in a class and so are able to accept children joining mid week. If you arrive in Folgarida during the week please contact our administration staff for more information on joining a course which is already running info@scuolascifolgarida.com or 0463986350;
Afternoon with the instructor: Kids have the opportunity to ski with their instructor after lunch once each week. These special groups are for a maximum of 4 of a similar level and end at 16:00. This will give parents the knowledge that their children are safe and having fun whilst they free to take a long lunch or free ski.
Mini Club: Our child minding service is located on the ski slopes. During their time with us your very young child will learn to ski in the morning with a specially trained ski instructor and, after having lunch at the Malghet Haut restaurant, have fun in the afternoon accompanied by one of our young assistants! Find out what it is by clicking here!
Please Click on the price list to see all our rates and options. If you need any further information please contact our administrator by email info@scuolascifolgarida.com
To prevent disappointment we recommend booking in advance. On-line bookings receive a 10% discount.
Prices
For children from 4 to 14 years old. During Low and High Season from Sunday to Friday or from Monday to Friday from 10.00 to 12.50. During Top Season (Christmas and end of the year) the courses starts everyday.
On thursay there is race* and prizegiving with medals for all the children.
Friday Fullday* from 10.00 to 16.00.
Courses are guaranteed with a minimum of 4 partecipants per group, if less balanced in private lessons.
*(Lunch with the instructor included in the price; we suggests week skipass for having the ability to ski at least one day in Madonna di Campiglio for non-rookies; not possible during the period Christmas - New Year)
Course Details
Low Season
High Season
Top Season

6 days from SUNDAY to FRIDAY10.00 / 12.50
(thursday race, friday fullday)

€ 200

€ 180 ONLINE

€ 220

€ 198 ONLINE

€ 220

€ 198 ONLINE

5 days from MONDAY to FRIDAY 10.00 / 12.50
(thursay race, friday fullday)

€ 180

€ 200

€ 200

Afternoon with the instructor 12.50 / 16.00 lunch included with the instructor

€ 40

€ 40

€ 50

Afternoon with the instructor 14.000 / 16.00 lunch not included

€ 30

€ 30

€ 40
Book Online the ski course you like in Folgarida
whether you're looking for group lessons – available for children or adults - here is where you can book online.
Discover