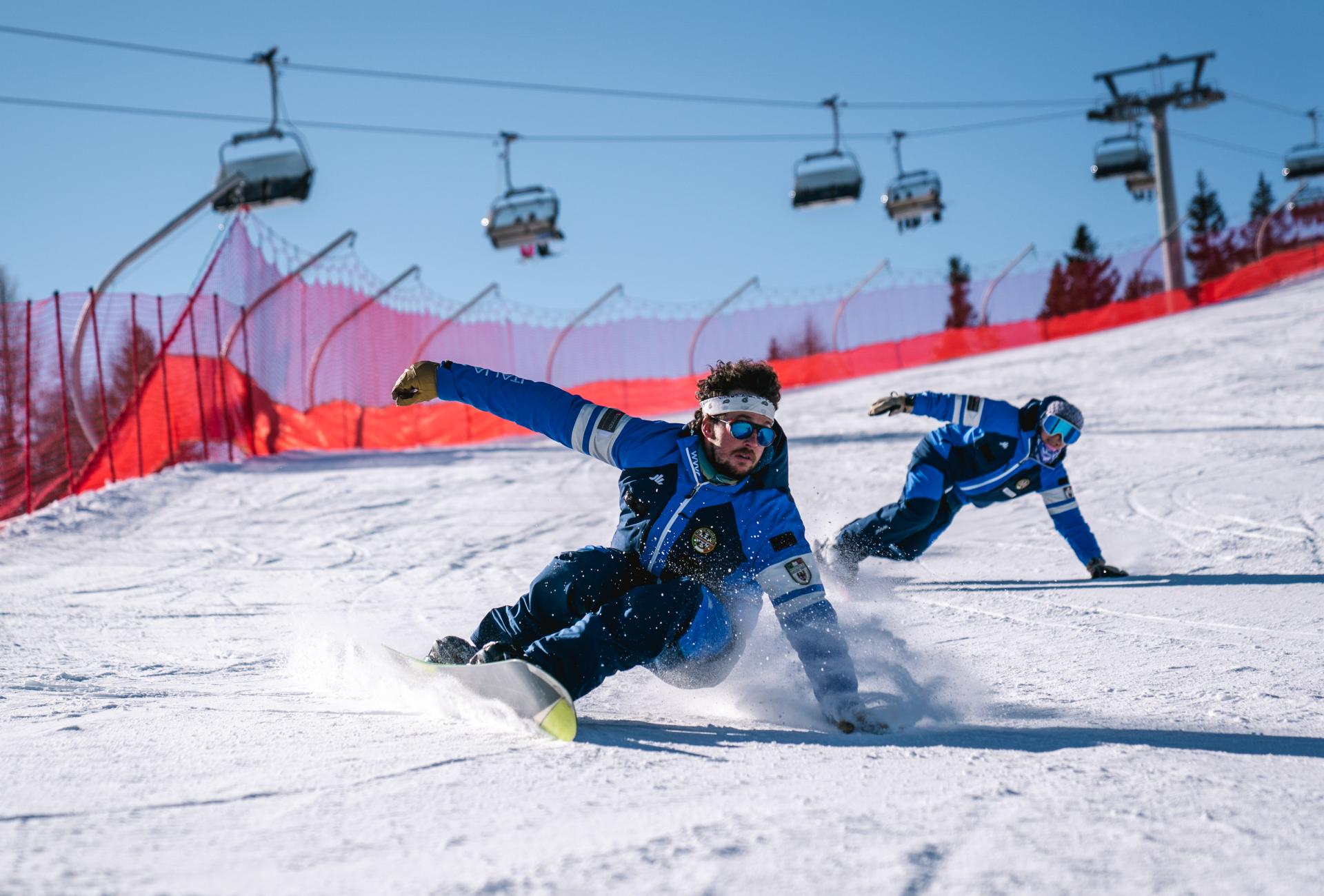 Snowboard Fun
Snowboard is not the extreme sport it used to be thought of as...
But then again, it's not just an alternative to skiing; it's all about being able to explore the whole mountain in a fun and exciting way.
Our boarding instructors have many years of experience and are ready and waiting to pass on their passion and enthusiasm for boarding all its forms and show you the techniques needed for you to big-it-up as and where you want. Want to have a go? Never done it before (yeah it does look fun doesn't it)? Are you already an experience boarder looking for that little something to enable you to shred it up. Or maybe you're just looking for a companion who's able to keep up with you as explore our wonderful mountains and pistes. We're waiting to hear from you, just let us know what you're looking and we'll be right there. Snowboard technique keeps on updating (doesn't everything?).
To help improve your style, we organise private and group lessons for beginners, good snowboarders, freestylers and freeriders, in fact for anyone who loves the powder. For the ones who like to draw curves on slopes we have instructors that specialise in all types and forms of boarding. (we would have used the word Rad – but it's a bit 1990's that, don't you think?).
The Snowpark Marilleva is perfect to start freestyling. If you're looking to perfect your jumps or any other freestyle "stuff", our instructors are on-hand to offer the tips that you'll need.
If you're thinking that snowboarding is just for the kids, you're wrong. OK we all know that kids pick up boarding really quickly, but hey, it's your holiday as well. Give it a go, you never know. If you have any questions or just want to find out the best places to visit, pop into the office (either in Folgarida town or up on the slopes) and we'll be happy to help.
Please click on the price list to see all our rates and options. If you need any further information please contact our administrator by email info@scuolascifolgarida.com
Please remember that for those booking an ADULT GROUP SNOWBOARDING COURSE on-line booking will recieve a discount of 10%
Book Online the ski course you like in Folgarida
whether you're looking for group lessons – available for children or adults - here is where you can book online.
Discover